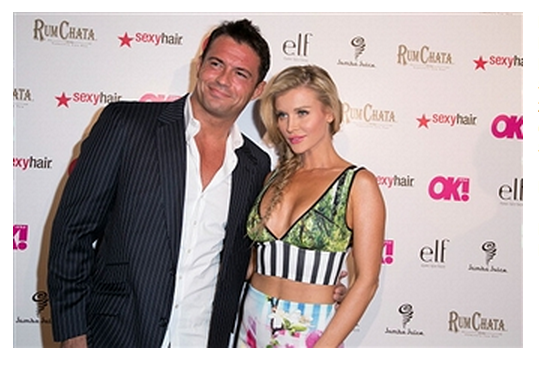 OK! Magazine held their annual "So Sexy" LA event at Hollywood hot spot, Lure Patio Wednesday evening. The event celebrated Hollywood's sexiest celebrities of 2014 and the event was just that, a party with a ton of good looking people.
Guests in attendance included "Real Housewives of Miami" star Joanna Krupa and OC Housewives Gretchen Rossi, Lizzie Rovsek and Alexis Bellino. The cast of "Vanderpump Rules" were spotted at a VIP table with camera crews around them. They were probably shooting their current season.
We had the pleasure of meeting Justin Hartley, who played the green arrow on the CW's "Smallville" for those of you that adored him in the green tights as much as I did. His current project is he has joined the cast of ABC's "Mistresses" which is premiering next month. Justin was joined by the cast of "Days of Our Lives" and what says "sexy" more than soap opera stars?
I know, how about a young man launching an apparel line to aid communities in Senegal?Founder of Project Wolof, a fair trade fashion forward apparel line, Jason Webski explained his goal at the event, "When launching a socially conscious business in Africa, events like this are great for meeting new contacts to help our cause. You would never believe the type of people willing to chip in and help you gain the momentum!"
We also learned more about Imoshion Handbags at the party. It is a line for vegan fashionistas. "Imoshion is a luxury vegan handbag line designed in Los Angeles that is loved by celebrities and artists alike who share the lifestyle of cruelty free fashion. Fashion with compassion. Luxurious Animal friendly handbags that have the look and feel of leather."
The brand Artistix and creator behind it all, Greg Polisseni came up with the concept in early 2013 based on his vivid paintings and creativity. His goal was for individuals who wore the clothes would know that the line evolved from the inner most expressions of a true artist. Actress and model Caitlin O'Connor represented the brand last night wearing all Artistix apparel. Caitlin O'Connor is best known for her role as a regular actress on the MTV series Chelsea Settles, as well as guest spots on shows like Comedy Central's "Key & Peele," "The Nick Kroll Show," and "Tosh.0."
Roshon Fegan, former Disney star and Season 14 contestant of "Dancing with the Stars" is taking triple threat to new heights with the announcement he just got signed to a record label. Although he couldn't reveal which label, he explained to me the announcement will be made within the next few weeks. With his father and manager Roy, or as they like to call him "Dad Man", right by his side, there's no doubt this 22 year old will be making waves in 2014.
This event just goes to show LA is a melting pot oozing sexiness from actors and singers to fashion designers and entrepreneurs.
The party featured elf, Jamba Juice and Sexy Hair. Rum Chata and Svedka were serving up sexy cocktails throughout the evening while Aqua Hydrate kept guests cool and hydrated. Music was be provided by DJ Cobra.
-Sanaz Sarshad
Thumbnail Image