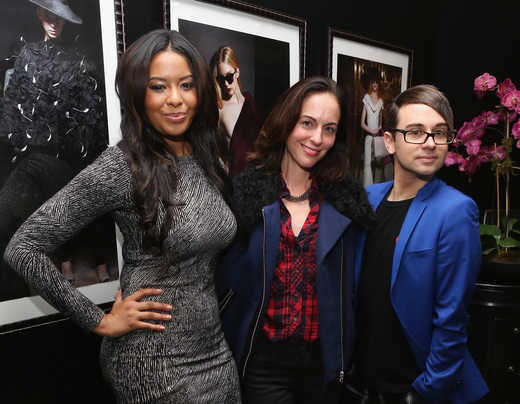 On Wednesday, October 22, 2014, Christian Siriano held an event in his Soho boutique featuring Vanessa Simmons to celebrate the upcoming premiere of Lifetime's all new fashion series, Project Runway: Threads which sees both Siriano and Simmons as hosts alongside Seventeen magazine fashion director, Gina Kelly, Accessories Editor, Jasmine Snow and YouTube blogger, Ingrid Nilsen. Project Runway Threads is a spin off reality TV show based on the original Project Runway format. The twist is this time, instead of featuring adults; the main focus will be on various talented teenagers competing for $10,000, and a scholarship to Fashion Institute of Design & Merchandizing to fulfill their aspirations of being fashion designers.
Walking into the event, guests were greeted with a glass of champagne courtesy of popular premiere event management company, McDuff Goldman Events. Everything that could potentially interest customers was being displayed. This includes Christian Siriano's gorgeous women's fall attire, sketches, and fragrances. The clothes were multi colored and dimensional and the way they are designed gives off a high class Parisian vibe. If Lily Bass from the hit shows "Gossip Girl" was a real character, Christian Siriano's boutique would be her closet. Very homely, very high toned and sophisticated. The space was decorated with fashion books, shoes, black and gold prints. The intimacy of the affair emphasized the welcoming interactions between all the guests including the photographers and servers. Vanessa Simmons who attended the event in a stylish short dress took the time to introduce herself to everyone. She was very sociable and warm, as she made sure to have a personal conversation with everyone in the room. It is without a doubt that both Simmons and Siriano are fiercely excited for the premiere of the series. The event was fabulous and incredibly refreshing to say the least.
Tune into Lifetime TT on Thursdays at 10:30/9:30c to catch the premiere of Project Runway: Threads.
-Igee Okafor
Thumbnail Image