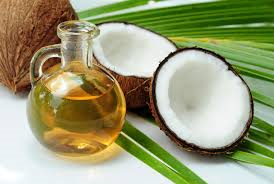 Coconut Oil has gained much popularity over the years. Something that was once considered a specialty item is a staple in many kitchens and bathrooms. There are many uses for coconut oil. Here are some of them.
1. Makeup Brush Cleaner – Mix some coconut oil and antibacterial soap and you have a gentle cleanser.
2. Hair Treatment – Whether you want a deep conditioner, pre-poo, dandruff release, or to tame frizz this oil will do it all.
3. Toothpaste – Keep your teeth and breath fresh without all of the added chemicals. Baking soda and coconut oil is a great mix.
4. Lip Balm – When coconut oil is at room temperature or cooler it solidifies. The natural moisturizing agents of the oil will do wonders for your lips. Grab a small container and create your own lip balm.
5. Deodorant– You can make your own deodorant without worrying about your lymph nodes getting too clogged. Mix cornstarch, baking soda, coconut oil, and a scented oil.
Yvelette Stines