Full-figured model Ashley Graham made headlines earlier this month when she made history as the first plus sized Sports Illustrated Swimsuit cover girl and while the milestone was met with mostly favorable feedback, not everyone was a fan.
Among the few who voiced public criticism of Ashley's cover was former model and previous SI Swimsuit cover girl Cheryl Tiegs. Speaking to E! News at a pre-Oscar party last week, Cheryl was very open about her opposition to plus-sized women being celebrated. While she admitted thinking Ashley was "beautiful," she also said she wasn't in favor of "glamorizing" full figured women because she believes them to be "unhealthy" after also suggesting that women's waistlines should be 35 inches or smaller.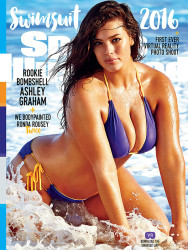 But don't shed any sympathy tears for Ashley; she doesn't need them!
The curvy beauty took Tiegs' bogus comments in stride. She had this to say in response while speaking with E! News after walking her first major runway for H&M during Paris Fashion Week:
"Cheryl Tiegs may have said what she said, and it may have hurt a lot of peoples feelings but my skin is so thick.

I kind of rolled my eyes, I was like, 'Oh whatever, another one of these ladies.' But what's great is that – the fact that she said it – it means that other women think like her. And what that means is that we really need to change the industry," she shared. "There are too many people thinking they can look at a girl my size and say that we are unhealthy. You can't, only my doctor can!"
Ashley also briefly addressed Tiegs' after-the-fact apology on social media once she began to receive backlash for her comments.
Her response?
"I've never personally heard from her. She said her comment about me, then [I] never heard a follow up. People are saying she apologized. But I never heard one."
Sounds like Ashley wasn't impressed in the least…and who can blame her.
Photo Credit: Getty/Sports Illustrated