Yes, many of us are reaching for that morning cup of coffee, now your skin can enjoy the jolt of caffeine.
Thanks to IT Cosmetics, they have created Confidence in an Eye Cream and the product claims to smooth the looks of lines and wrinkles, brighten skin for that natural glow, and reduce puffiness and inflammation.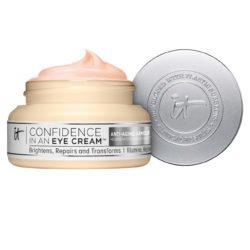 With products such as avocado, licorice, and caffeine you can't go wrong. Excited yet? Well, next week you can purchase this greatness in a jar. It will be available March 21 through IT Cosmetics and beginning in April you can pick it up at Ulta Beauty.
-Yvelette Stines