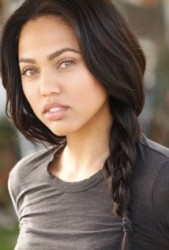 Ayesha Curry scores major points when it comes to her style and we're in love with this playful look!
1. To achieve this fishtail braid style, it's best to start off with textured hair.
2. If you have natural wavy hair or wearing wavy extensions shampoo and condition hair then follow with a lightweight curl/wave defining product. Either allow hair to air dry or use a diffuser on a low-medium heat setting.
3. Otherwise, use a curling wand to create waves. The waves do not need to be perfect; you can take different size sections.
4. Flip head over and use a flexible holding spray throughout.
5. Use a large tooth comb to separate waves and create fullness.
6. Create a loose fishtail braid, directing hair to one side and secure the end with a rubber band. Compared to a traditional braid a fishtail involves directing strands outward then inwards. You can leave hair out in the fringe area if you so choose to.
7, Tug at strands within the braid to loosen the braid even more. When tugging at strands, do so slowing and strategically. You want to create some what of a "messy" look but you also want the braid to look balanced.
8. Mist with a lightweight shine spray to finish.