Vibrant songstress Janelle Monae has been a beautiful addition to the Cover Girl cosmetics family since their partnership began in 2012 and her latest round of campaign ads are nothing less than stunning.
In the first new promo shot for Cover Girl's revamped "Oh Sugar" lip balm line, Janelle is outfitted in a white blouse with a tasteful cluster of diamonds and pearls adorning her neck. Slight variations of light pink splashed across her eyelids, cheeks and nails perfectly compliment the cotton candy-colored lip balm, while her choppy bob hairstyle adds just the right amount of flair to her look.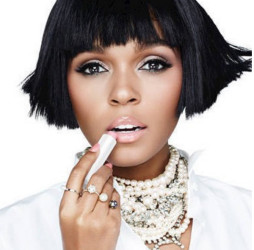 Shop "Oh Sugar!" HERE
In the second promo shot, Janelle enhances her natural beauty using products from Queen Latifah's "Cover Girl Queen" collection. A sheer black blouse with a ruffled center trimmed in luxurious gold embellishments is the perfect piece of apparel for the "royalty" theme of the ad. Rocking the burgundy-based Cover Girl Queen "Monarch" color on her lips, Janelle's curly mohawk and adorning headpiece add the perfect finishing touches to her look as she takes her seat on a gold throne.
Shop "Monarch" HERE.