Actress, model and singer Kat Graham now has another accolade to add to her growing resume as she was recently named a brand ambassador for Caress body wash.
The Caress brand is constantly adding to its' line of heavenly-scented products and they've upped the ante with the newest addition to the family, Caress Mystique. More than just a body wash, the product also acts as a perfume of sorts that omits the scent of the body wash upon touch.
Speaking to PeopleStyle about her new gig as the face of Caress Mystique, Kat says she is proud to be a representation for strong women as part of the campaign.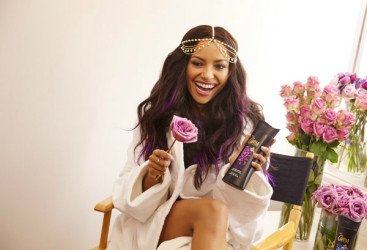 "It's [the campaign] all about getting in touch with your inner queen, what makes you feel empowered, and what makes you feel special and giving it to the world."
Kat also admitted that she doesn't quite feel completely dressed until her perfume is applied. We can relate!
"Like I might be so cute — I might look in the mirror and be like, 'Hair is done, makeup is on fleek, like I am amazing,' …but I will run back into my house if I forget to put my perfume on."

We, for one, can't wait to try out Caress Mystique!
Photo Credit: Rebecca Smeyne