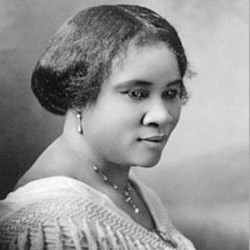 When we think of the words trailblazer, entrepreneur, philanthropist beauty, and/or hair, Madam C.J. Walker comes to mind. Known as the America's first female self-made millionaire who built her own empire, she is an inspiration to many.
Sundial Brands, a leading skin and haircare manufacture known for Shea Moisture and Nubian Heritage, announced the company's first prestige haircare launch today,  Madam C.J. Walker Beauty Culture. The products will launch exclusively in Sephora stores and online starting March 4, 2016.
"In partnering with Sephora, this launch represents another step forward in our rich history and continues Madam C.J. Walkers' legacy to help every woman feel confident to embark on the life she desires.  It's also a dream come true not just for us, but for the millions of women who have been touched by the legacy of Madam C.J. Walker and the millions more who will be inspired to reach their own levels of greatness by hearing her story," said Richelieu Dennis, CEO of Sundial Brands.
The line consists of four collections that address the cleansing, treatment and styling needs of all hair textures. These include three styling collections formulated with six multi-tasking oils that help nourish, condition, detangle and seal in moisture. Madam C.J. Walker Beauty Culture's product solutions contain all new formulations created with the highest quality natural ingredients.
"Madam C.J. Walker Beauty Culture is taking what Madam Walker envisioned more than 100 years ago to a fresh, new level with products and formulas I believe she might have imagined for the 21st century," said A'Lelia Bundles, great-great granddaughter of Madam C.J. Walker and official Madam C.J. Walker historian and biographer.
Yvelette Stines
Photo: Gettys