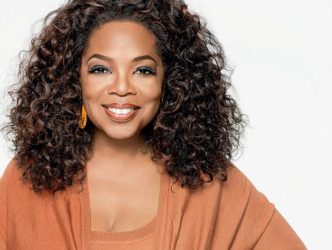 If I were to create the perfect elixir to emulate Oprah Winfrey's inner and outer beauty, I think I would simply name it the "Oprah-tini!" Our Makeup Monday Spotlight honorary recipe would look something like this:
1 Teaspoon of alluring cinnamon coloring
¾ oz. Imagination
2 oz Ambition
3 oz. Spirituality
1 ½ oz. Pure unadulterated humbleness
Chill, pour into a martini glass and garnish with cucumber slices.
Sip slowly ladies, this concoction are for those that can truly respect, appreciate and overall recognize the power of natural beauty! However, Oprah's inner beauty is what allows her outer beauty to effortlessly shine through and with a little help from her makeup artist of more than 20 years- Reggie Wells. Oprah keeps her skin looking soft and flawless by investing into a good concealer and foundation for those long stressful commutes, interviews and red carpet events that may not allow her to rest as frequently as one should.
The key to matching concealer and foundation for anything you may consider blemished eg. Pimples, scars, freckles, moles, birthmarks, and fine lines is to typically color swatch the side of your jawline (if possible). If this method does not work, try purchasing two shades that best resemble your skin tone, it's okay to make an educated guess by holding it up to your face and viewing in a nearby mirror.
You may find that one shade may be darker or lighter than the other, that's perfectly fine. The lighter shade can be used as a highlighter and the darker shade can be used for contouring (just remember to blend-in accordingly) with a nice buffing brush (skip the sponge it removes product and can cause streaks). Despite having two shades that you now believe were a complete and utter waste, don't fret my friend, mix both of the chosen shades into a small container and customize your own color- you can also gather any of your old concealers and foundations and keep them nearby as a guide for your new unique laboratory you makeup mad scientist you!
Comment below!  Share your favorite makeup tips, opinions and ultimate truth by discussing any and everything pertaining to beauty and self-awareness for "Everyday Hope" at the following:
Nafeesah Hope
(203) 809-4629 mobile
yumi4us@yahoo.com
www.instagram.com/nafeesahhope
www.linkedin.com/in/nafeesahhope
www.twitter.com@nafeesahhope
www.instagram.com/yumi_dollhouse_makeup_artists