Maintaining our tresses through the harsh seasons can be difficult and often involves an elaborate hair care regimen. With so much information dedicated to the maintenance of our hair, one may be confused as to how individual products affect and benefit the overall health of our tresses. A popular "must-have" product that finds itself nestled into many of our hair regimens are hair butters. What does this product actually do and is it necessary?
What does it do?
Hair butters are an organic combination of unrefined fruit, tree, and nut butters with natural oils. These organic combinations are used, not to moisturize the shaft of your hair follicle, but to provide a sealant for the hair shaft and scalp—to prevent breakage and dryness. In order to moisturize your tresses, it is necessary that water enters the hair shaft. When a sealant, such as hair butter, is placed on the hair follicle, water is repealed. Much like raindrops sliding down the sides of an umbrella–hair butters are designed to lock in moisture and repeal outside moisture. It is mainly used to prevent frizz and protect the scalp from dryness. Hair butters also act as a protectant against thermal styling and as a low-grade SPF that protects the hair from the sun's ultra violet rays.
Necessary, or not?         
Hair butters are a nice addition to the regimen of people who have high-porosity hair—this is generally hair that absorbs ample moisture, but is unable to retain the moisture. High porosity hair usually includes color-treated and permed hair. Those that have regular porosity hair (hair that absorbs and retain equal amounts of moisture) can also add hair butters to their bi-weekly or monthly regimen. However, low-porosity hair repeals moisture and does not absorb  moisture easily. Because low-porosity hair is generally tightly coiled which prevents moisture from entering into the shaft, hair butters should be used sparingly. Using too much will cause product build-up, and can prevent the hair from absorbing much needed moisture. Hair butters, alternatively, are good for maintaining protective styles for those with low-porosity hair.
What are some great hair butters to use?
Glad you asked! Check out some of Jones' favorites: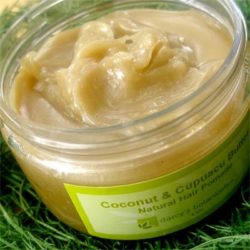 Darcy's Botanicals Coconut (White) Capuacu Butter Natural Hair Pomade, 4 fl. oz. Amazon.com $12.00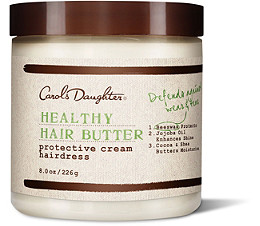 Carol's Daughter Healthy Hair Butter, 8.0 fl. oz. Carols Daughter $17.00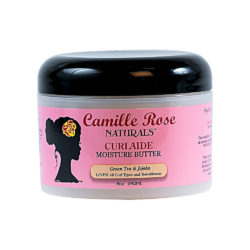 Camille Rose Naturals Moisture Butter, Curlaide, Green Tea & Jojoba, 8 fl. oz. Camille Rose $16.00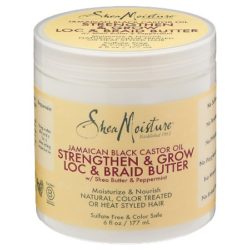 SheaMoisture Jamaican Black Castor Oil Strengthen & Grow, Loc & Braid Butter, 6 fl. oz. Amazon.com $10.59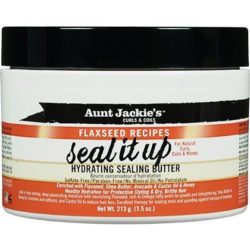 Aunt Jackie's Curls and Coils Flaxseed Recipes Seal It Up Hydrating Sealing Butter, 7.5 fl. oz. NaturallyCurly.com $5.99
-Francina James