MAC has teamed up with some of the biggest names in music and entertainment to represent their uber popular brand in the past and now they've set their sights on 4 of music's hottest rising starlets.
The cosmetics giant has incorporated artists from 4 different genres of music for their new "Future Forward" campaign including R&B singer Tinashe, lead vocalist Jillian Hervey of Neo Soul duo Lion Babe, electro-pop songstress Halsey and Hip Hop emcee Dej Loaf.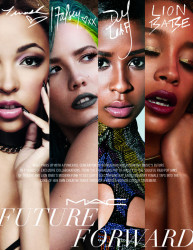 Each of the ladies contributed creative input to 4 new products inspired by their unique styles and personalities. Tinashe's "Times Nine" eyeshadow palette will retail for $32 and hit MAC stores in March 17, and she had much to say to Billboard about her involvement with putting the product together.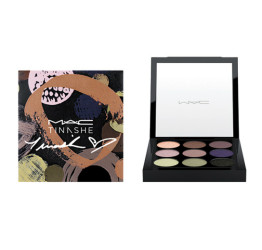 "I was really intrigued by the chance to bring my creative vision to this. I got to design the packaging, pick out the colors, and create something that I felt like I would use. It's shades that range between dark black to an army green, and then some burgundies."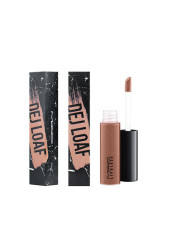 Dej Loaf's Rosy Nude $15 lipglass will touch down on April 17, but she wasn't always a fan of make up. "I was anti-makeup just recently fell in love with it. I don't want to perform without it anymore," the Detroit native told Billboard.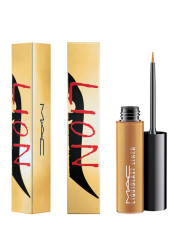 Lion Babe lead Jillian Harvey says her metallic gold Liquid Last Liner, priced at $21 and hitting stores on April 28, is a must-have product because if it's versatility. "I loved that you can make a very clean line with this product, but that you can also use it as a body bronzer if you wanted to. For me, I feel like it's pretty key to have a product—whether it's a lip stain you can use on your cheeks—to have something that you can use in more than one way."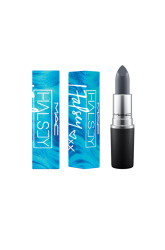 For Halsey, her $17 Gunmetal Matte lipstick is the perfect representation of her new approach to make up.
"I think my approach to makeup has definitely changed over the years. I've started wearing less and I'm learning how to use makeup as a tool to enhance features that I have instead of trying to change my face into something that it's not."