That broccoli on our plate can give us a plethora of health and beauty benefits, what about broccoli in a bottle, specifically for our hair?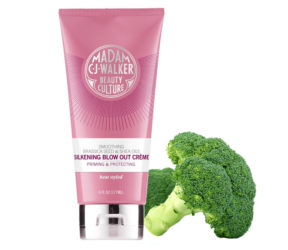 Madam C.J. Walker Beauty Culture's Brassica Seed & Shea Oils Silkening Blow Out Crème has the distinct ingredient of barassica seed oil, and it works wonders for your strands. This crème is packed with shea, a natural deep conditioner, sage, an herb that supports scalp health, and barassica seed oil is a natural alternative to silicone.
Using this product, you will reduce the drying time, keep your hair smooth, tangle free, and soft without weighing your hair down or creating product build-up. The formula's time-release actives will also help to extend the life of your straight style. The crème is also Paraben, Sulfate, and Phthalate Free.
Who would have thought, Broccoli anyone?
Shop exclusively at Sephora and Sephora.com. ($26)
-Yvelette Stines