Earlier today MTV announced the 2016 "MTV Video Music Awards" nominations on Facebook Live.  Beyoncé lands 11 nods from the ever popular "Lemonade" and Adele has eight, this includes seven for her YouTube record breaking video "Hello." Other nods along with "Formation," and "Hello" include Drake's "Hotline Bling," Kanye West's "Famous," and Justin Bieber's "sorry" are all up for Video of the Year.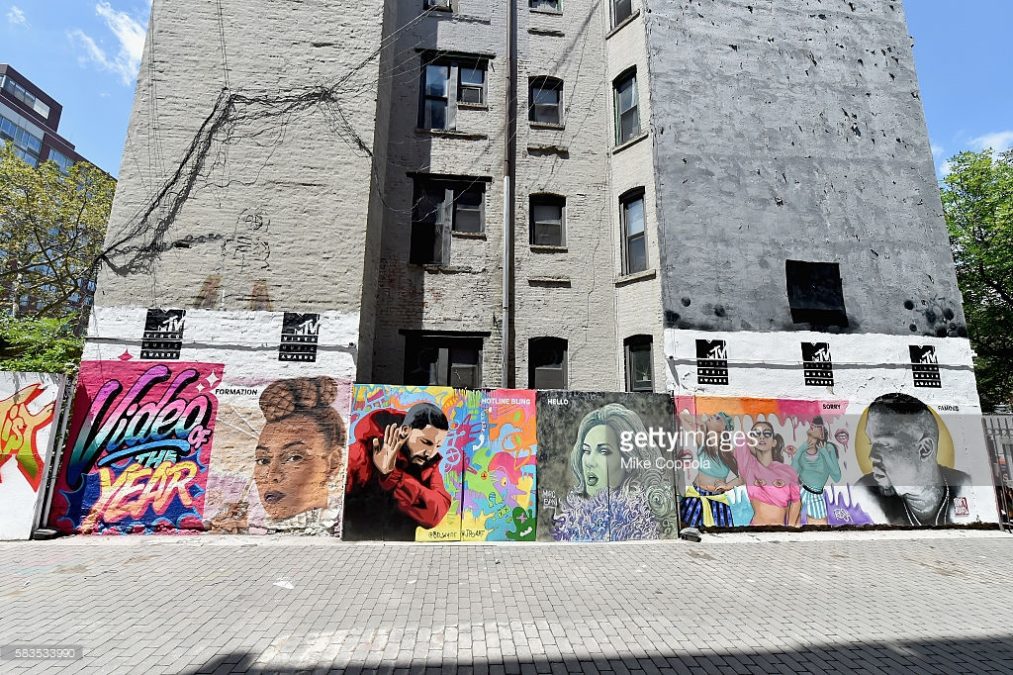 To celebrate the artistry of this years music video's, MTV unveiled the "Video of the Year" nominees in a panoramic mural at the First Street Green Art Park in New York's East Village. The mural was created by world-renowned visual artists BD White, John Paul Ogrodnick (JPO), Damien Mitchell, Marc Evan, Resa, BKFoxx, Queen Andrea, Hektad, Giz, Such and Poem One.
The 2016 "MTV Video Music Awards" will air LIVE from New York's iconic Madison Square Garden for the first time ever on Sunday, August 28 at 9:00 p.m. ET/PT.
Beginning today, fans can vote for their favorites in VMA categories including, "Video of The Year," "Best Male Video," "Best Female Video," new category, "Breakthrough Long Form Video" and more by visiting vma.mtv.com.
VIDEO OF THE YEAR
Adele – "Hello"
Beyoncé – "Formation"
Drake – "Hotline Bling"
Justin Bieber – "Sorry"
Kanye West – "Famous"
BEST MALE VIDEO
Drake – "Hotline Bling"
Bryson Tiller – "Don't"
Calvin Harris ft. Rihanna – "This Is What You Came For"
Kanye West – "Famous"
The Weekend – "Can't Feel My Face"
BEST FEMALE VIDEO
Adele – "Hello"
Beyoncé – "Hold Up"
Sia – "Cheap Thrills"
Ariana Grande – "Into You"
Rihanna ft. Drake – "Work" (short version)
BREAKTHROUGH LONG FORM VIDEO
Florence + The Machine – The Odyssey
Beyoncé – Lemonade
Justin Bieber – PURPOSE: The Movement
Chris Brown – Royalty
Troye Sivan – Blue Neighbourhood Trilogy
BEST COLLABORATION
Beyoncé ft. Kendrick Lamar – "Freedom"
Fifth Harmony ft. Ty Dolla $ign – "Work From Home"
Ariana Grande ft. Lil Wayne – "Let Me Love You"
Calvin Harris ft. Rihanna – "This Is What You Came For"
Rihanna ft. Drake – "Work" (short version)
-Yvelette Stines
Photo: Getty