'Tis the season to be lit…..and literally, if you're Beyoncé.
The Carters were in New York City last night and were bombarded with paparazzi cameras as they made their way out of a holiday party. Beyoncé was certainly dressed for the occasion, to say the least, as she strolled to her car from a downtown office building with some of her staff outfitted in nearly everything you'd find on a well-decorated Christmas tree.
From the Santa Claus hat, to the Christmas tree shades, to the garland, to the ornaments, Blue Ivy's mom was ushering in the holiday spirit in grand fashion.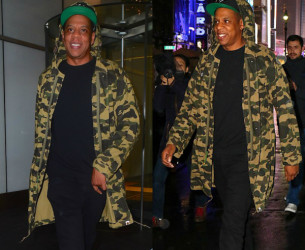 JAY Z also came out for he celebrations, but from the looks of his much-less-festive attire, we're guessing his wife may have used all of the decorations on her own outfit!