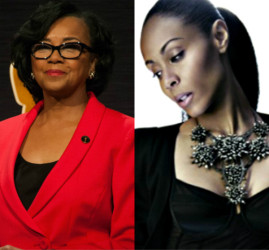 The 2016 Academy Awards is shaping up to be quite the eventful night for more reasons than one.
Hollywood A-lister Jada Pinkett-Smith sent the internet into a tailspin earlier this week when she announced plans to boycott this year's Academy Awards show, noting the Oscars lack of diversity in nominees for yet another year and her husband Will Smith's "snub" as reasons for not attending.   Other members of the Hollywood community soon began speaking out to agree with the widely shared sentiment of disappointment over the lack of diversity in the nominees and the uproar inevitably led the Academy to directly address the issue on social media.
Academy president Cheryl Boone Issacs issued this statement on Monday, pledging to do more to ensure that the organization's membership become more diverse, which would likely lead to more deserving actors of color being recognized for their work through nominations.
A statement from Academy President Cheryl Boone Isaacs pic.twitter.com/Nqhgc7sbqG

— The Academy (@TheAcademy) January 19, 2016
Jada has since responded to the message, expressing gratitude towards the Academy and specifically to president Issacs.
I would like to express my gratitude to the Academy, specifically Cheryl Boone Isaacs, (pt 1)

— Jada Pinkett Smith (@jadapsmith) January 20, 2016
for such a quick response in regard to the issue at hand. I look forward to the future. (pt 2)

— Jada Pinkett Smith (@jadapsmith) January 20, 2016
Both Jada and Spike Lee have vowed to boycott this year's award show, however, neither have yet to clarify whether or not the plans are still in place in light of the Academy's statement.