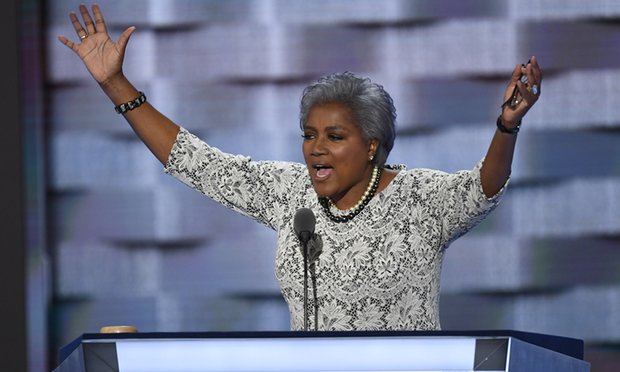 Tuesday night, acting Democratic National Committee Chairwoman Donna Brazile gave a poignant speech at the 2016 Democratic Convention.
"As a child, I lived through and survived the segregated South," she stated. "I sat at the back of the bus at a time when America wasn't yet as great as it could be."
"As a grown woman, I saw the first black president reach down a hand and touch the face of a child like I once was, lifting his eyes toward a better future. But I have never, ever, in all my years seen a leader so committed to delivering that better future to America's children as Hillary Clinton," she continued.
"It was at the Children's Defense Fund that I met Hillary. I was 21, feisty, and ready to fight, and I remember thinking immediately, here is a woman who doesn't mess around. Steel in her spine, Hillary didn't want to talk about anything other than how to make children's lives better. That's the Hillary I know," stated Brazile, in support of Democratic nominee, Hillary Clinton.
Democratic National Committee Chairwoman Donna Brazile spoke to the 2016 Democratic Convention on Tuesday night, delivering a barn-burner of a speech in support of nominee Hillary Clinton.
While many may know of Donna Brazile for her gut-wrenching speech, causing listeners everywhere to tweet #blackgirlmagic and #girlpower, at this year's Democratic Convention; Ms.Brazile has been a trailblazer in politics for decades. In 1984, Brazile got her start as a political player in Democratic politics during Reverend Jesse Jackson's campaign for president. In 2000 Brazile made history as the first African American to direct a major presidential campaign as Al Gore's campaign manager.
In addition to Jesse Jackson, Al Gore and Hillary Clinton, Brazile's resume includes the likes of Walter Mondale-Geraldine Ferraro (1984) and Richard Gephardt (1988). This year in particular, the Democratic party needed someone quick witted to handle the Debbie Wasserman email crisis and Donna Brazile rose to the occasion.
The author, academic and political analyst will serve as the interim chairperson after the 2016 Democratic National Convention concludes.
-D'mani ShowMeDmani DeVoe