When we take away our limiting beliefs? What are the dreams, goals, or aspirations we could achieve? Marley Dias, shows us that age is really a number and as long as we push pass our own limitations, we can achieve great things.
Dias, 11-years-old, creator of the #1000Blackgirlbooks campaign will add editor –in – residence to her repertoire.  Marley Mag, is a new magazine curated to women of color in partnership with Elle.com.
In the first issue, you will find interviews with Oscar-nominated Ava DuVernay, where they discussed pop culture and racial inclusion and Ballerina Misty Copeland as they chatted about race, body image, and Marley's' love for dance.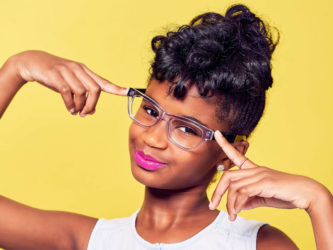 That is not all, an interview with Larry Wilmore is featured in this first issue too, along with stories; A Middle School Survival Guide and Why Muslim kids should be represented in books.
In Marley Mag's editor letter, Marley tells us how important, this achievement is:
"A year ago, I wanted to collect #1000BlackGirlBooks, but I see now that there is so much more to do and so much more to this journey. I want to use what I've learned to elevate the voices of all those who have been ignored and left out. This experience at ELLE has given me a preview into my future and shown me what is possible. So even though I am still very nervous, I hope you will enjoy what this amazing team of women and I have put together.
Here are some of what you'll find in this issue: "This issue is about women and girls who have left their imprint on the world. Some of them have charted new courses. Some have expanded the way we see the world and what we think is possible. And all the women (and man! Hi, Larry Wilmore!) in Marley Mag are people who have inspired me."
Go confidently in the direction of your dreams. Live the life you have imagined. -Henry David Thoreau.
Congratulations Marley! Thanks for showing us all how we can make a difference in the world.
-Kerri L. Hill