It's not a mystery how Michelle Obama feels about America eating healthy. While in office she  championed behind healthy foods and ensuring America's families got fit. She was also the mystery guest on "MasterChef Junior."
The episode was filmed while President Obama was still in office. "For your mystery box challenge, I'm asking all of you to come up with an original recipe that's healthy and follows the "my plate" symbol, filing half your plate with fruits and veggies and the rest with whole grains, lean protein and dairy." She asked the young contestants. The "my plate" symbol replaced the food pyramid in 2005, making the design simpler for consumers to understand.
The winner was 11-year old Justise from Georgia. She made pan-seared shrimp with sautéed bell peppers, carrots, eggplant and quinoa. As the winner, Justise was able to attend the Obama's final Kids' State Dinner in July, 2016.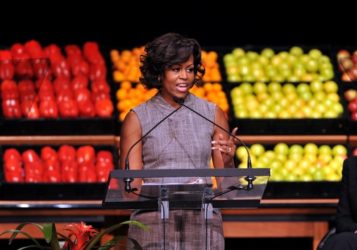 An excited Justise got the opportunity to interview Mrs. Obama prior to the event. Justise inquired about the idea behind the Kids' State Dinner. "Here at the White House we do state dinners all the time for heads of states."  According to DailyMail.com "Usually they're grown-up affairs, very fussy and stuffy. We have entertainment and serve wonderful food, and I thought we should do something like this for kids."
Further in the interview, Justise asked "what advice would Mrs. Obama would give to the young chefs?" Obama replied: "There is nothing more important that you can do for yourself than to get an education. Doing your best not just in the kitchen but you've got to be your best in the classroom. I want you all to keep pushing and preparing yourself for college and doing well."
"And the last thing I would tell you to do is your [use] your voice and help others because a lot of kids don't know how important it is to eat healthy. So you guys have to be our ambassadors and introduce them to new vegetables and fruits."
– Kerri L. Hill