Last year, Jada Pinkett Smith, called for a boycott of the the Academy Awards stating that the Academy did not acknowledge the hard work and efforts of African American actors, screenwriters, directors and producers.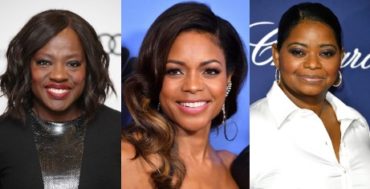 The Academies response to that, the BLACKEST Academy Awards ever and the one that will go into history books.  This year, many films featuring African Americans were nominated, Loving, Hidden Figures, Fences, O.J. Made in America and Moonlight.
Viola Davis made history again, being the first African American women to win an Oscar, Tony, and Emmy award.  This year, 3 of the 5 women nominated for Best Supporting Actress were African American women, Octavia Spencer-Hidden Figures, Naomie Harris-Moonlight and Viola Davis-Fences.
Mahershala  Ali is the first Muslim to receive an Oscar. He won for Best Supporting Actor for Moonlight.
The night was more eventful when the Academy had its own Ms. America moment, que Steve Harvey. When Warren Beatty and Faye Dunaway announced, La La Land as the winners for Best Picture, obvious confusion was on the faces of the cast, and the presenters.  Then La La Land, producer John Horowitz announced that Moonlight, were the real winners.
Moonlight took home the Oscars for Best Picture, Best Writing Adapted Screenplay, and Best Supporting actor.
The award winning film depicts the three defining chapters in the life of Chiron, a young black man growing up in Miami. His epic journey to manhood is guided by the kindness, support and love of the community that helps raise him.
According to CBS News, Cheryl Boone Isaacs, had this to say about this year's Oscar nominees,  "The nominees follow the efforts by Academy of Motions Pictures Arts and Sciences President Cheryl Boone Isaacs to diversify the membership of the largely white, older and male film academy. "Tonight is proof that art has no borders, no single language and does not belong to a single faith," said Isaacs."
What a great way to end Black History Month!
Kerri L. Hill