Songstress Erykah Badu is adding yet another accomplishment to her impressive resume.
No stranger to the fashion industry or setting trends, Erykah will be teaming up with designer Kerby Jean-Raymond to style the show for the presentation of his upcoming AW16 Pyer Moss' collection during New York Fashion Week.
According to reports, Jean-Raymond reached out to Badu to assist him in the continuance of telling the story of being Black in America.
"The presentation is a meditation on the tension and mental anguish that exists when conflicting demands are placed on an individual, thereby resulting in confusion in thinking and communication," Jean-Raymond said in a statement. "In the 1950s, anthropologist George Bateson coined the term 'Double Bind'; which he found to be a common occurrence in the childhoods of adults patients diagnosed as schizophrenic."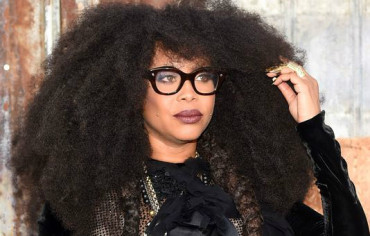 Badu, who is known to speak out against social injustice through music and activism, states that she is honored to work with Jean-Raymond and that the pairing feels like a "match made in Heaven".
"(Kerby and I) were a match made in fashion heaven," Badu said, "We share an eye for truth through art. Though risky at times, he stands in his truth. And the strength of that truth lies in the belief of his vision. I'm inspired by the bold statements he makes in this, sometimes, fickle industry."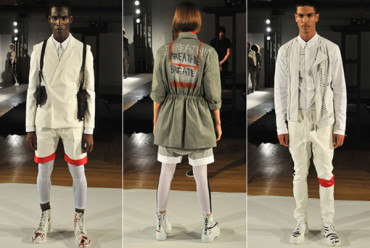 Jean-Raymond is also no stranger to using his fashion influence as a means of addressing social issues. Last year, the designer brought the Black Lives Matter Movement to NYFW by showcasing a powerful short film at his event, featuring footage from the police killings of Eric Garner and Walter Scott. As for his collection, blood was splattered across the model's shoes, along with Eric Garner's last words "I Can't Breathe."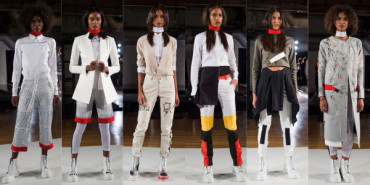 The black experience in America is the ultimate double bind," Jean-Raymond's statement continued, "A place where natural born citizens live an immigrant experience in the only land they've known as home. A place where black culture is praised, commodified, and appropriated, while black people are [criticized], vilified, and hunted for sport. A certain functional schizophrenia has to exist to cope with the dissonance of having a black man in the White House while a black body lies for four hours in the streets of Ferguson."
This is Badu's second appearance in NYFW, having collaborated with Givenchy in 2014 and kicking off last year's NYFW with a performance at Top of the Standard.
The Pyer Moss AW16 show is scheduled for February 13.