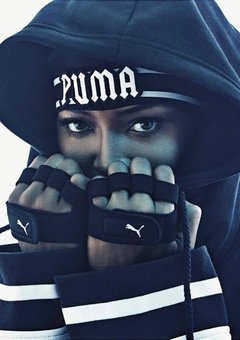 Rihanna's newest campaign for Fenty by Puma, the singer/fashion icon's street wear line is being endorsed by none other than supermodel, Naomi Campbell. Yes, Ms. Campbell will be the face of the highly anticipated line.
Rihanna is known for her  rebellious, yet chic style and "bad-ass" persona, much like the fierce and fearless Naomi Campbell. The two style mavens are both outspoken but never out dressed. In 2014, the two posed together alongside super model and beauty pioneer, Iman for W magazine. So it is no shocker that they've crossed paths once again to create fashion magic.
Fenty by Puma is the first women and menswear line singer and fashion icon, Rihanna has launched. However, the 28-year-old mogul is certainly doing well in her new venture; her line's creepers, fur slides and trainers have all sold out within just hours of going on sale.
We're certainly excited to see what Fenty and Campbell have in store for us aesthetically. There have been no official announcements as to the date Fenty by Puma will go on sale, but as we previously mentioned all Ms.Fenty touches turns to sold; so keep a close eye to any updates or be prepared to miss this Navy boat.
-D'mani ShowMeDmani DeVoe