Ming and Aoki Lee Simmons are two celebrity daughters who were practically born into the spotlight, but now they're really getting a chance to shine as teenagers courtesy of mom Kimora Lee's latest line of KLS apparel.
The daughters of Kimora and entertainment industry mogul Russell Simmons, Aoki and Ming are effortlessly fabulous in sneak peak photos of designs from KLS Resort 2017 Collection posted to each of their Instagram pages earlier this week.
The line features an array of chic pieces in a tasteful mixture of bold solids and stylish prints with a few metallics mixed in.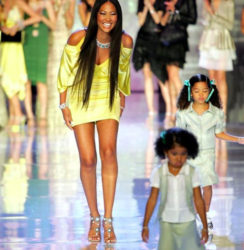 Now 14 and 16, the girls are certainly no stranger to modeling world, as they've graced many a runway and a few fashion campaign ads alongside their mom, who is also a former model herself. The KLS Resort 2017 Collection will debut in full sometime this summer.