Making a healthy lifestyle change or looking to cut calories and get in better shape for the warmer seasons? This delicious basil and parmesan-flavored vegetable pasta recipe from model Chrissy Teigen is a mouthwatering, lighter alternative to the carb-heavy traditional version of your favorite pasta dish.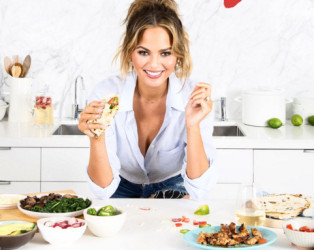 Ingredients
6 asparagus stalks, trimmed1 large carrot (or 2 smaller ones), peeled and trimmed
3 tablespoons olive oil, plus more for drizzling4 cloves garlic, minced
½ teaspoon chili flakes
Salt and pepper
½ freshly grated parmigiano reggiano cheese
fresh chopped basil for garnish
Preparation & Cooking Instructions:
1. Place the zucchini on a cutting board and hold it firmly with your non-peeling hand
2. Apply pressure as you peel from one end of the zucchini to the other to create a "noodle." Peel until you hit seeds.
3. Midway through, you can rotate the squash, which creates a flat surface for the "peeling."
4. Repeat with the other vegetables. All of the noodles won't be the same thickness, and that's OK.
5. Toss the vegetables together to mix them up a bit.
6. Heat the oil in a large skillet over medium-high heat, then add the garlic and cook until fragrant, 1-2 minutes.
7. Add the vegetables and cook, tossing lightly but not trying to break them up, until they're just tender but not mushy, 3-4 minutes.
8. Add the chili flakes, then toss in the cheese.
9. Season with salt and pepper and divide among 2 pasta bowls.
10.Garnish with basil.
For more quick and tasty recipes, visit Chrissy's website HERE.