Take a vacation in paradise as you are surrounded by breathtaking beaches, culture, restaurants and the hospitality of the Caribbean. Whether you are looking for a weekend getaway, celebration, or a family vacation, St. Thomas has a lot to offer. Located in the U.S. Virgin Islands (USVI), also including St. Johns and St. Croix, St. Thomas will help you refresh, relax, and recharge. An easy trip to take and no passport is needed.
Known as the most developed and largest island in the USVI, St. Thomas spans at 32 square feet. There is a lot of fun packed in paradise, from the beaches, tours, nightlife, and resorts there is something for everyone.
A Sight of History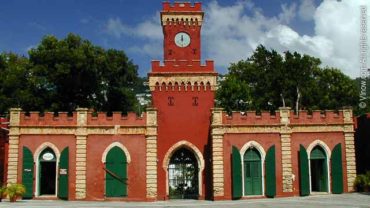 To understand the history of St. Thomas, some sightseeing is the way to go. There are some historical places on the island that are favorites for many. The French Heritage Museum is located in little Frenchtown. This museum is known for preserving the French History of the island it has over 400 artifacts to share the rich French culture of the island. In the 1800s French settlers came to St. Thomas from St. Barts. Frenchtown was also home to other French-speaking island settlers such as Haiti and Martinique.
Another famous landmark is Fort Christian. Built in 1672 and named for the Danish King Christian V. This landmark is the oldest standing structure in the USVI. Presently, this is the location for the Virgin Island Museum and it displays artwork and exhibits of the islands' history and culture as well as historical furnishings. In the past the location has been used as a church, courthouse, jail, town hall, and governor's residence.
Built in 1697, Blackbeard's Castle also known as Skytsborg Tower is at the highest point on Government Hill. It was built for the purpose of being a watch over for Fort Christian. It is listed as a National Historic Landmark and the only 17th fortified century tower in the Caribbean.
Home Away From Home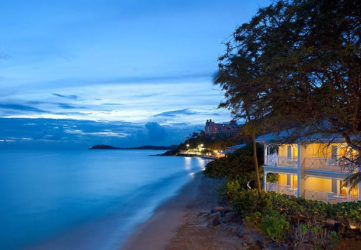 With the Caribbean hospitality, one foot on the island it feels like home. There is a plethora of options for your stay in paradise.  Walk into heaven on earth at the Frenchman's Reef & Morning Star Marriott Beach Resort. This beach view resort will give you the rest and relaxation you are looking for. With over nine dining options at the resort, a full fitness center, and a kid friendly zone, there is a lot to do without having to leave. Have an extra jolt of relaxation at their boutique spa with many services and treatments to choose from. Rates start at $289.00. Marriott.com
Sapphire Beach Resort Condominiums is known as one of the most beautiful beaches on the island. White sand and clear blue water is the perfect atmosphere for fun in the sun. Located at the east end of the island you have enough entertainment that you won't have to leave the resort. For those who want to venture out the famous and well-loved tourist stop, Red Hook is one-half mile away. Rates start at $200. sapphirebeachresortcondos.com
A private five room villa gives a beautiful view of the island. Villa Mirino, Ocean front, Intimate East End Home This five bedroom space is a private residence that is located in the neighborhood of Estate Nazareth.  This home offers a luxury experience with 180° unobstructed view of the Caribbean Sea, fully air conditioned, enough room for 10 people, five bedrooms, four and a half baths, heated pool, and minutes away for popular tourist attractions such a Red Hook and ferries to St. Johns. The Rate is $525 a night. Homeaway.com.
Sights to be Seen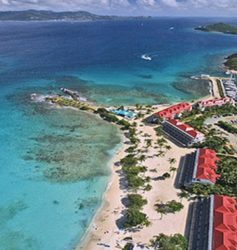 Known as one of the most popular destinations on the island, Red Hook is loved by many.  This heavily toured destination offers dining, duty free shopping, and beaches galore. If you love boats this is your spot . If you love shopping, you will enjoy it too. The name came from the architecture of red-tiled roof homes and businesses that are spread out along a coastline. Travelers can visit Havensight Mall which includes 60 shops, Coral World Ocean Park an aquarium that offers 150,000 gallons of exhibits, and the popular beaches such as Sapphire and Bluebeard.
The beauty of the USVI is they are close. If you want to visit all of the islands you can take a day trip Island hopping between St. Thomas, St. Croix, and St John. Puerto Rico is included in some packages. The British Virgin Islands are also and option but you will need your passport. You can take a fairy service or inner island airlines for your day trip to more Caribbean countries.
Dine Well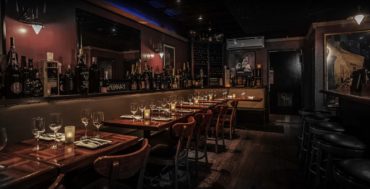 Known for its waterfront dining experience Grand Cru  is a tourist favorite. Located in Yacht Haven Grande Marina, visitors will have options of both indoor and outdoor dining. This restaurant has wonderful options for lunch and dinner. Known for its superior selection of 23 wines, diners will have a view of the island while experiencing the beauty of St. Thomas. Edward Wilmot, Charlotte Amalie, St Thomas 00802, U.S. Virgin Islands  340-774-7263
Located in historic French Town, Epernay Bistro and Wine Bar is a popular spot for both locals and tourists. Known for its double happy hour, has an extensive wine selection and menu that will satisfy any taste bud. This boutique restaurant is known as the favorite spot among St. Thomian celebs. Friday nights are known to be quite the scene. Whether you want cocktails or a meal, this place will not disappoint.  24 Honduras, St. Thomas, VI 340.774.5348
-Yvelette Stines