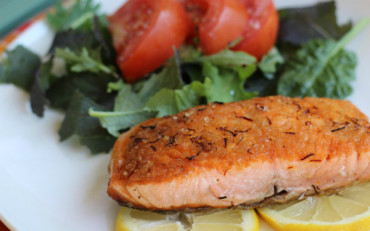 Saffron Salmon
1 6-8oz Salmon Filet (Skin on, crisp skin is always a GOOD thing! :))
Sea Salt
1tsp Saffron
1 Tbs Ghee (grass fed pure butter)
Preparation
*You simply heat a skillet on medium high and melt the ghee. While the pan is heating season both sides of the fish with a generous coating of coarse sea salt and the saffron. Place the fish skin side down for about 3-4 mins or until skin is crisp and golden. Flip and finish cooking until your preferred doneness. I like my salmon well done but moist, so 2 mins did the trick for me.
I like to serve the salmon over some lemon slices for freshness, next to a bed of mixed greens and tomatoes! I lightly season them with salt, pepper and Little Lights Of Mine Olive Oil. So fresh!