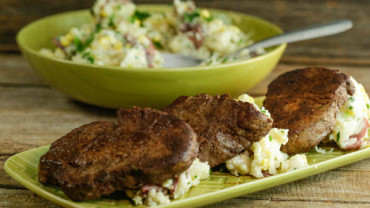 Pan Steaks With Loaded Mashed Potatoes
For the Pan Steaks:
4 6- to 8-ounce filets
Salt and pepper
1 to 2 tablespoons salted butter
1 tablespoon olive oil
2 sprigs rosemary
2 cloves garlic
For the Loaded Mashed Potatoes
4 large red skin potatoes, quartered
1 to 2 tablespoons cream cheese
1/2 cup smoked Gruyère cheese
1 cob super sweet white corn (freshly cut off of the cob)
Salt and pepper
Chopped chives (optional)
Preparation
Preheat oven to 450°F. Season steaks with salt and pepper.
Heat an oven-safe or cast-iron skillet over medium-high heat. Place the butter and oil into the pan. When the butter has melted, place steaks into the pan and sear for 2 minutes on each side, or until they are nice and golden brown. Toss in the rosemary and garlic, and place in the heated oven for about 7-9 minutes—7 minutes usually makes for a perfect medium!
Now, here is the trick… are you ready? LET IT REST!
For the Loaded Mashed Potatoes:
Boil the potatoes until fork-tender, about 10 minutes. Place the potatoes in a bowl while hot and mash them with a fork. Add in the cream cheese, shredded smoked Gruyère and corn. Mix it all together and add salt and pepper to taste. Lastly, add in the chives.