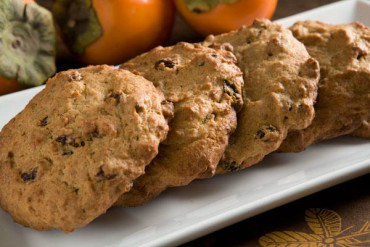 Gluten-Free Persimmon Cookies
Ingredients:
1/2 Cup of Brown Sugar
1 Stick of Unsalted Butter
1 Organic Egg
1 Cup of Blended Persimmon Pulp (about 4-5 small persimmons)
1 1/4 Cup Gluten-Free Flour
1 Tsp Baking Powder
1/2 Tsp Baking Soda
1 Tsp Ground Cinnamon
1/2 Tsp of All Spice
Pinch of Salt
1/4 Cup of Chocolate Chips (Optional)
Handful of Chopped Walnuts (Optional)
Optional Lemon Glaze: 2 Tbs Unsalted Butter melted and hot, Juice of half of a lemon and 3 Heaping Tablespoons of Powdered Sugar
Preparation:
Preheat your oven to 375. In a bowl mix brown sugar and room-temperature butter together until smooth. Add in the egg and the persimmon pulp and mix until it forms a smooth wet batter. Next, add in all of your dry ingredients and mix well until a thick batter is formed. Drop tablespoons of the batter onto a greased cookie sheet, leaving about 2 inches between each cookie. Bake for about 10-12 minutes.
Let them cool completely before tip-off—and enjoy!
*******
For more recipes, upcoming details about Ayesha's first cookbook, and much more from the Curry household, be sure to keep your eyes on her Little Lights Of Mine blog HERE.
Photo Credit: Ayesha Curry/Rachel Ray