Ok, ok…we know it's crunch time if you're going to meet those summer fitness goals, but if there's ANY day between January and May that should be considered a "cheat day," what better than Superbowl Sunday?
In case you're in need of some last minute menu ideas to keep your guests happy while they cheer on their favorite team, here are 3 recipes sure to score big.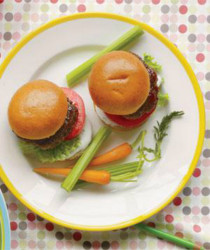 Recipe 1: Ranch Burger Sliders courtesy of Dawn Perry
Ingredients:
1 1/2pounds ground beef
2teaspoons olive oil
kosher salt and black pepper
8 small soft dinner rolls, split
1/2cup ranch dressing
lettuce, sliced plum tomato, and cut-up vegetables (such as carrots and celery), for serving
Directions:
1. Form the beef into eight 3-inch patties.
2. Heat the oil in a large skillet over medium-high heat.
3. Season the patties with ½ teaspoon salt and ¼ teaspoon pepper and cook until an instant-read thermometer inserted in the center of each patty registers 130ºF, 2 to 3 minutes per side for medium-rare.
4. Form sandwiches with the rolls, ranch dressing, lettuce, tomato, and burgers. Serve with the cut-up vegetables.
Recipe 2: Mezzetta Red Pepper Hummus courtesy of Ayesha Curry
Ingredients:
1 16oz can garbanzo beans
1/4 cup tahini paste
2 cloves garlic
1/4 cup olive oil
2 Mezzetta Roasted Red Peppers
Directions:
1. Simply place ingredients into a blender, blend until smooth and serve.
2.Garnish with chopped Mezzetta Roasted red peppers and a little bit of sea salt.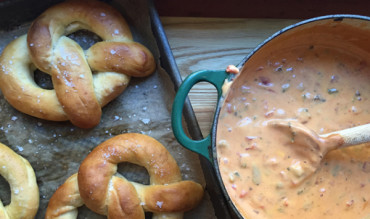 Recipe 3: Soft Pretzels & Spicy Salsa Dipping Cheese courtesy of Chrissy Teigen
Ingredients
For the pretzels:
1 cup whole milk, at room temperature1 packet instant dry yeast (2 1/4 teaspoons)
3 tablespoons brown sugar1 tablespoon sugar
3 1/2 cups flour2 teaspoons salt
3 tablespoons unsalted butter, at room temperature, cut into pieces
For the queso:
5 large jalapeño peppers, halved and seeded
1 tablespoon vegetable oil
salt and freshly ground pepper
1 pound Velveeta cheese, cubed
one 14-ounce can Ro-Tel (or another brand of diced tomatoes & chilis)
Directions
Pretzels:
1. Mix milk, yeast, brown sugar, and white sugar
2. Add the flour, salt and butter and mix until the dough starts to come together, about 2 minutes
3. Knead the dough for about 5 minutes, stopping the machine once in a while to pull down the dough if it climbs up the dough hook, 5 minutes
4. Gather dough into a ball, place it in a greased bowl, cover it with plastic wrap and leave it in a warm spot in the kitchen to rise until doubled in size, about 1 hour.
5. Preheat the oven to 450°F. Line two baking sheets with parchment paper
6. Whisk the hot water and baking soda in a shallow bowl or pie plate until dissolved
7. Transfer the dough to a clean work surface and cut the dough into 6 equal pieces. Work with one piece of dough at a time and cover the rest with a kitchen towel to keep it from drying out. Working from the center out, roll the dough into a long rope about 2 feet ling by ½ inch wide.
8. Lift the ends of the dough, and raise them up to create a U-shape. Cross the dough arms twice, then lower the ends of the dough back down towards the bottom and press them slightly together to make them stick.
9. Lift the pretzels into the baking soda bath and place on the reserved cookie sheet. Repeat with the remaining dough to form 6 pretzels. Sprinkle the pretzels generously with salt and bake for until golden brown, 10-12 minutes.
10. Remove the pretzels from the oven and brush them with the melted butter.
Queso:
1. Preheat the oven to 500°F.
2. Toss the peppers with the vegetable oil in a bowl and arrange on a small baking sheet, skin side up
3. Season with salt and pepper
4. Roast until very dark, 15 minutes
5. Cool and finely chop the chilis and combine them with the Velveeta and Ro-Tel in a saucepan.
6. Cook over medium-low heat, 5-6 minutes
7. Serve with pretzels