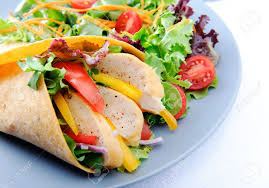 There are many food options when it comes to holiday events, cookouts, and celebrations. As we are gathering with friends and family, the healthy option radar might become a bit relaxed. There are ways to enjoy company and stay on a mindful food track during the holiday weekend.
1. Plan ahead –  If you are going to attend several events throughout the day plan where you are going to eat the most. Some places might have heavy appetizers and others a full dinner. Either way you know your boundaries.
2. Pick Wisely –  If you are snacking, migrate towards the vegetable tray, fresh fruits, and salads. Remember dips are great to taste, but they have a lot of hidden calories and will give you the sensation of feeling full.  For heavier meals, fill your plate up with vegetables and lean meat if possible.
3. Sip Clean – Try to avoid sugary drinks, fill up on water. You can also infuse your water with fresh fruit, it serves as a better health benefit and it will keep you hydrated while you are enjoying your time outside.
4. Sweet Endings – Finally for dessert, try to taste lightly, a small sampler plate is a wonderful option. If there is fruit, that is the healthier way to go.
Have fun, stay safe, and healthy.
Yvelette Stines