Last week, Rihanna teamed up with VEVO to release a teaser for her upcoming "Work" music video featuring Drake and now the full version is finally here.
Set in a dimly lit Canadian club with heavy reggae vibes, the video sees Rihanna and former flame Drake grind it out on the dance floor while also separately enjoying the party as the night goes on. In the first video, Rihanna is outfitted in a fishnet Tommy Hilfiger dress with a thigh high slit and matching bikini underneath. Drake's attire lends itself to an entirely different season, as he's seen in an OVO sweatsuit (maybe it's light weight?).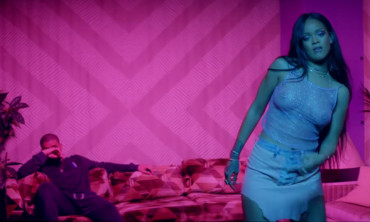 Just as the video appears to come to an end, the footage transitions into a second separate video featuring only Rihanna, Drake and a cozy living room. Rihanna swaps her bob for long black tresses, while her outfit choice for the second visual includes a sheer purple halter top, cropped denim skit…and very visible nipple piercings. But, we've said enough. Check out Rihanna and Drake in "Work" below.